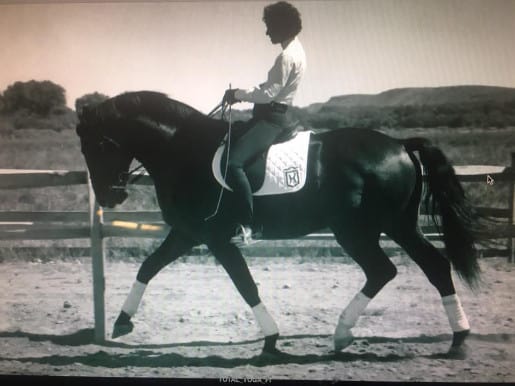 Owned and operated by the McElvain family, Rancho Corazon focuses on the breeding, development, and showing of Holsteiner sport horses. It all began, however, as a small converted dude ranch on the banks of the Pecos River near Santa Fe, New Mexico. Later, at a cattle ranch in South Texas, Tim and Betty McElvain — avid fox hunters and hunter/jumper riders — began to experiment with crossing various horse breeds in an effort to create the perfect mix of conformation, temperament, and athleticism.
After developing an interest in classical dressage, the McElvains traveled to Europe, visiting the Verband in Schleswig, Holstein. It was love at first sight: As soon as Betty stepped in the barn to find 30 beautiful, calm, intelligent stallions awaiting presentation, she knew that these horses were the embodiment of all that she had attempted to produce. Returning home, the McElvains purchased a stallion and two mares and commenced 35+ years of breeding Holsteiners in the United States.
The McElvains moved back to New Mexico and built Rancho La Querencia ("Favorite Place") in Lemitar, a small town south of Albuquerque. Tim and Betty's son, Guy, and his wife Sharon McElvain later joined them, setting up their own farm nearby.
Today, Betty is retired, but Rancho Corazon ("Heart") encompasses both properties and continues to be a family affair. In addition to producing world-class performance horses, Rancho Corazon now also produces world-class events. In partnership with Brian Gonzales and Gerald Peters, Guy purchased, renovated and re-launched the RCSF horse park. The venue hosts USEF-rated shows and will serve as the base of operations for young horse development.