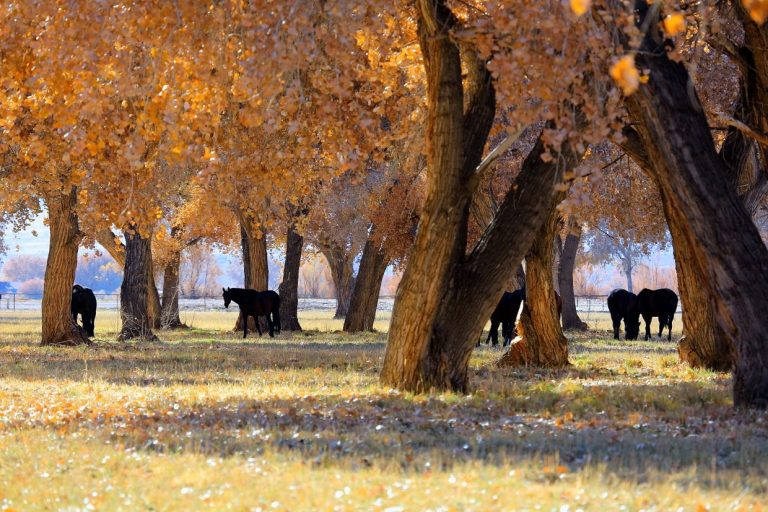 Rancho Corazon is situated on more than 300 acres in the Rio Grande River Basin of central New Mexico. The land serves as a wildlife sanctuary for herds of elk, mule deer, coyotes, wild turkey, quail, owls, hawks and Sandhill cranes. The entire property is fenced and offers the ideal conditions for breeding, raising, training and retiring horses.
Lemitar's mild climate allows the horses to live naturally year-round – mostly outside and with a herd of their peers. The vast majority of the horses' nutritional needs are met locally: Rancho Corazon grows all of its own hay and manufactures a private label feed. By creating such synergy between the surroundings and their horses, Rancho Corazon ensures that they are happy, healthy, sound and prepared for a long performance career.
We have a fully equipped breeding facility, including a phantom, stocks and a state-of-the-art reproduction/veterinary room. The breeding barn includes six box stalls, four mare-and-foal stalls, two designated stallion stalls, 12 paddocks, and 2 moveable breeding sheds that are equipped with 24-hour video surveillance and heat lamps.
Rancho Corazon has several round pens for breaking and training young horses. The 16-stall show barn houses the competition horses, each with its own individual paddock run. The facility also includes grooming bays, a hot walker, a treadmill, air-conditioned tack and feed rooms, and laundry facilities. The unique structure was designed by Guy and then constructed from British Columbia's finest giant Western Red Cedar logs.
The farm offers numerous training venues, including arenas with sand, grass and GGT footings. There also is a large derby field, as well as a dressage ring. Riders enjoy miles of trails, a cross-country course, and varied terrain, all of which contribute to an engaged and well-prepared competitor. As true athletes, our horses benefit from daily exercise and activities that ensure optimal fitness and quality of life.
If you are looking for the ideal place to breed, train or retire your horse, please consider Rancho Corazon. To arrange a tour and meet our staff, please email general manager and young horse trainer Devin Bell at RC Lemitar: ranchocorazon@gmail.com.