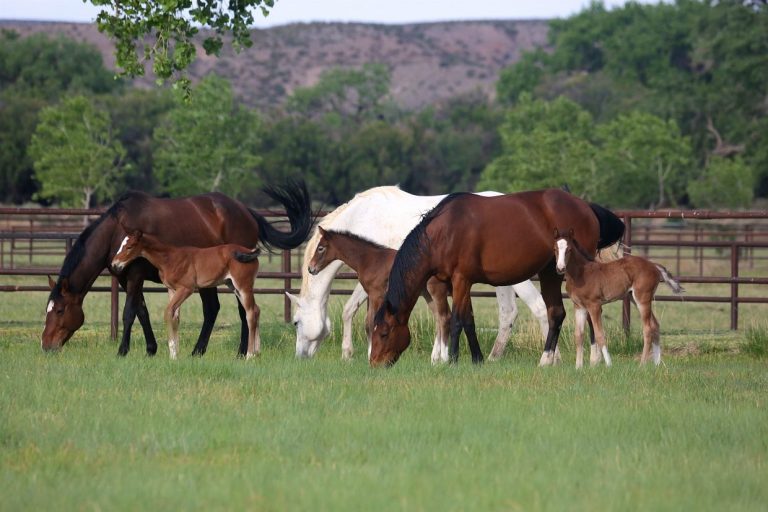 Rancho Corazon understands that the best bloodlines produce the best horses. We stand several American Holsteiner Horse Association-approved (or soon-to-be-licensed) stallions and house one of the industry's best broodmare bands. We continually introduce the finest European bloodlines to our breeding program in an effort to create the ultimate equine athlete that is capable of reaching the highest levels of equestrian sport.
Many buyers are unwilling to take a chance on breeding a champion, preferring to purchase a made horse for the here and now. However, over a hundred years of genetic, conformation and performance studies, and ever-improving breeding methods, can ensure that a 2016 foal will be a top sport horse in 2024. Rancho Corazon utilizes these same systems and techniques to produce winners, year after year.
In addition to breeding, Rancho Corazon specializes in the development of young horses. We recognize that horses should be allowed to be horses. Our foals are raised in large pastures: They grow up outside with their peers, thereby learning the instincts to survive and how to behave properly with other horses. We feed a specialized nutrition program that works with their environment and local resources. Consequently, Rancho Corazon horses have strong, correct bone growth that enables them to be healthy, hardy and sound throughout their lives. Our goal is to produce relaxed, happy, safe horses that are willing to work for the duration of their training and show careers. From birth, our foals are handled by a specialized team and are on a regular program for vaccinations, trimming and de-worming. When they are mature enough – physically and mentally — we take special care in starting the young horses under saddle. The training we provide is based upon on the proven foundations of dressage: forward, relaxed, light and balanced. As a result, Rancho Corazon horses are easy and pleasant to ride, but have the talent and work ethic to succeed.
Rancho Corazon's training philosophies extend beyond the horse. A happy, sound and confident horse is the basis of success for the competitive rider or owner. Rancho Corazon provides full-service training for the aspiring competitor as well as upper-level training services to owners who wish to see their horses compete in the top levels of the sport. The systems of our training program at RC are proven methodologies for producing excellence in sport horse and rider preparing for any level of competition. Through instruction and empowerment, our training technique supports riders in pursuing their individual goals. By providing riders with the tools and knowledge required to become a successful competitor as well as establishing the confidence to apply these techniques at any level of the sport our training program will ensure success.